Another Perspective in your Health & Wellness
Offering support through all stages of life, utilizing aspects of Chinese and Taoist medicine for your healing. A treatment session may include: acupuncture, herbal remedies, cupping, moxibustion, nutritional guidance, qigong tuina therapy (no needles), qigong instruction, stone medicine, and/or essential oils.

Chinese Medical Healing Sessions & Qigong TuiNa

Taoist Nurturing Life (Yang Sheng) Sessions Online/Phone

Group or Private Qigong Classes
Treatments address physical, emotional and spiritual disharmony. Disharmony may present in a variety of ways from pain, gynecological issues, digestive symptoms, emotional instability, to feelings of disconnection.
Polly treats a wide variety of disharmonies and creates a safe space for your healing. She offers support for those in transition or seeking new perspectives by providing educational tools for living in harmony.
Now offering Nurturing Life (Yang Sheng) online sessions or phone to support your healing and life transitions.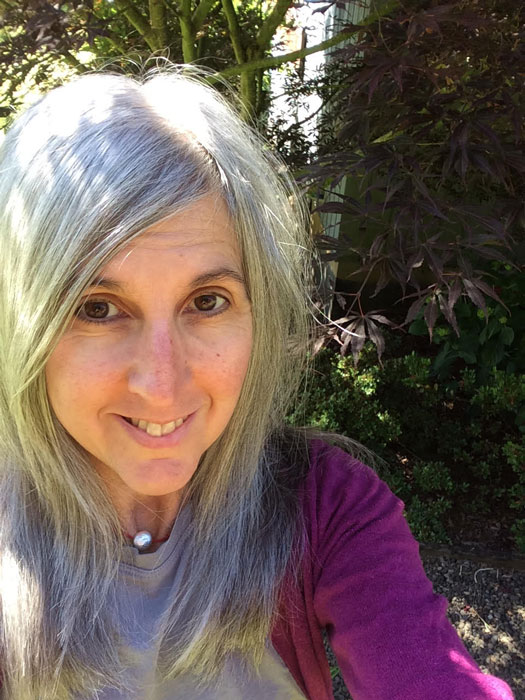 Polly Maliongas

MAcOM, Dipl. OM, LAc
Master Healing Qigong Teacher
Polly brings over 25 years of energy healing studies to her practice and classes.
Her path into Chinese medicine and Qigong began with a desire for personal change and an innate feeling that there was a different way to live her life. She began to explore the different moving arts and her passion awakened for the philosophy and movements of Qigong. By developing a relationship with Chinese medicine and Qigong, she feels we can experience a deep healing, acquire valuable tools for self-discovery, transform emotions, and manage stress.
Polly continues to deepen her studies with Dr. Liu Dong and Master Liu He of the Ling Gui International Healing Qigong School, where she received Master Teacher training and also holds the role of school administrator. In her private practice, Polly provides healing sessions incorporating principles of Traditional Chinese and Taoist medicine including Acupuncture and Qigong TuiNa. You are invited to become acquainted with these healing techniques for your own self-discovery, empowerment and healing. 
Polly has been my pillar through several physical and emotional challenges. What started as soothing acupuncture sessions has evolved into a wonderful self-cultivation process thanks to Polly's skilled teachings and rich knowledge of Chinese and Taoist medicine. Through her caring and insightful work, Polly gently guides us back to the innate wisdom of our body, mind and spirit. I am very grateful for her healing presence.
C.S.
I am so grateful for Polly's classes. I have studied with Ling Gui for many years and love it. I also love being able to review/relearn the forms. It allows me to sink into the movements...and feel, in a new way, how my body, mind and spirit are working together. Polly's guidance helps bring that all together and opens up new understanding! Taking Polly's classes helps me keep my practice progressing. They motivate me. I love the small class where questions can be more fully explored. Polly is a wonderful teacher, whether learning a new form or reviewing, she teaches with patience, humor, and clarity of explanations. It is fun and I am always learning more!!
L.S.
"I started treatment with Polly after a painful miscarriage in 2008. I was stressed out and run down. After receiving regular treatments for two years, I feel healthier physically and emotionally. Polly listens to me at the beginning of each appointment. With a combination of acupuncture, acupressure and Chinese herbs, she is helping me achieve and maintain my optimum health."
Erika
"I have been going for acupuncture with another therapist for the past 2 years, primarily to help with the menopause transition/stress management.
 I came to a place earlier this year when I felt I needed a different focus. The current treatment regime was not working. This was when I was referred to Polly.
 She developed a personalized Qigong program with the acupuncture treatment. This has made a tremendous difference in everything, especially stress management.
 Polly gives you her undivided attention and caring energy with every visit. I highly recommend any woman to give her a try to help them manage the challenges that menopause can bring. 
 She is amazing!!"
LR
"My daughter SR completely recovered from the urinary issue we struggled with over the spring and summer. Thank you so much for the healing role you played in helping us move through this time. I will never forget your loving presence in our home and the wisdom you shared with us. Mil Gracias!"
ER
"I have gone to numerous acupuncturists over the years and Polly is at the top of the list. She incorporates massage into her needling and the results are fantastic. My husband had a sciatic problem for at least 2 years, went to see Polly and has not had any pain since that one treatment 6 months ago. My mom at age 88 loves her visits to Polly and can feel instant relief from shoulder pain."
MH